Giving
TO GIVE TO St. James UMC Atlanta
There are many ways to contribute to St. James UMC. One way is by your tithes and offerings. Online via our safe and secure giving portal, you may set up a recurring draft or make a one-time gift. You may give through your bank's online billing service, by cash or check. We also accept stock/security gifts. And for larger legacy gifts and memorials, we have a St. James Endowment.
Each year, we also encourage people to fill out a pledge card to provide an estimate of their giving to the church in the upcoming year. Pledges help us plan our budget and how we can best serve the ministry of Jesus Christ.
If you have questions or would like help setting up your giving to St. James UMC, please email our Business Administrator, Shannan Wassel.
---
Pledge to St. James UMC Atlanta
St. James UMC Atlanta is excited to embark on our 2022 stewardship campaign. We become disciples through our prayers, presence, gifts, service, and witness. An important part of our stewardship campaign will focus on our annual pledge drive.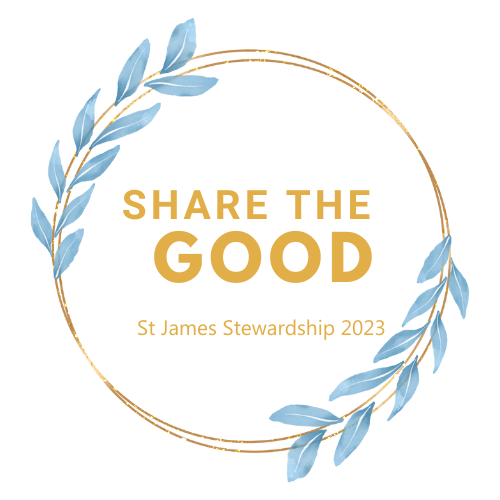 "Be grateful for the good things that the Lord your God has given you and your family:" Deuteronomy 26:11a GNT
God is doing good things through St. James every day. We have people gathering for worship
and Christian Education, students learning in our Preschool, scouts gathering throughout the
week, children, youth, and adults involved in our Activities Ministries. What are some of the
good things happening in your life or in the life of your family right now?
The scripture above reminds us to be grateful for the good things God has given us. I hope you
will take some time to thank God for some of these good things in your life. I also hope you are
willing to commit to sharing the good.
Our Church Council met in August to think about the coming year and what God is calling us to
do as a church. As we gathered, we were reminded of a saying often attributed to John Wesley:
"Do all the good you can,
By all the means you can,
In all the ways you can,
In all the places you can,
At all the times you can,
To all the people you can,
As long as ever you can."
As we thought about 2023, one of the Council's commitments is to "Share the Good." Part of sharing
the good is telling others about some of the things that God is doing at St. James and inviting them to
come join us. Another part is committing to give to support this work.
Please pray about how you can support the mission and ministry of St. James in 2023.
We hope to have commitments by November 20th.